Make sure to book your classes in advance.
We need at least 1 – 3 days notice prior to classes.
06.45 - 07.45 am Morning mist Yoga
This is the best that the jungle has to offer you. Practices yoga jungle morning misty . Your yoga will be enriched from the sound of early birds and gibbons, the chilled temperatures and the fresh oxygen from the rainforest. Perfect way to start a your day before your jungle day trip begin
Book this class on Whatsapp: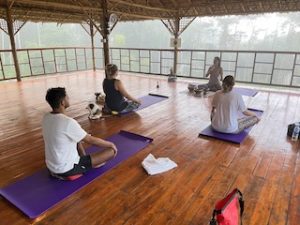 08.30 - 09.45 am Vinyasa Yoga
75 minutes body move with awareness. Yoga pose base on Hatha Yoga, adding a flow movement with Vinyasa (one breath, on move) yoga sequence is free style, it depending who is come to a classes.  Tone the entire body with mind focus  – Suite perfectly for beginner and intermediate
Book this class on Whatsapp:
11.00 - 12.00 pm Tibet singing bowl + Pranayama
From busy mind to grounded, From blockage to open the heart This classes is no any yoga pose. You will practices different  pranayama 30 minutes (yogis breath exercise) to bring mind to focus your inner world. 
Second half of session is sound and vibration with Tibet Signing bowl. You will laid down and let the bowl to bring you in states of meditation (Theta brainwave) release from blockages (you may cry) feeling vibration on your body  
 Please come don' t eat to much breakfast before you arrival 
Book this class on Whatsapp: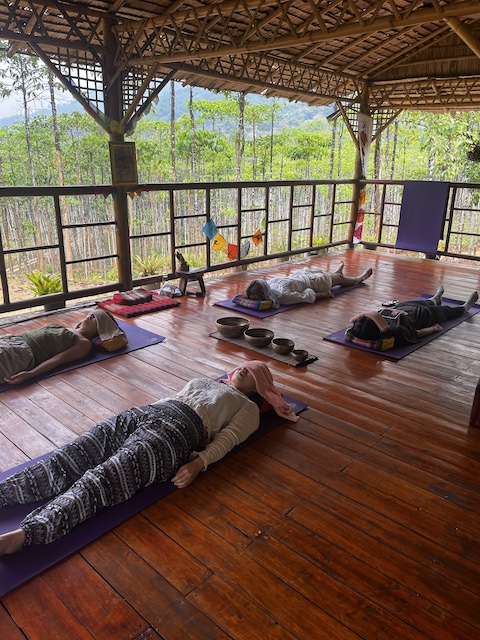 12.30 - 13.45 Midday Yoga
Classical Yoga movement connected with breath exercises, which help you to focus and bring peace of mind and body relaxation. This is a step to preparing your mind and body for deeper spiritual practices such as meditation.
Book this class on Whatsapp: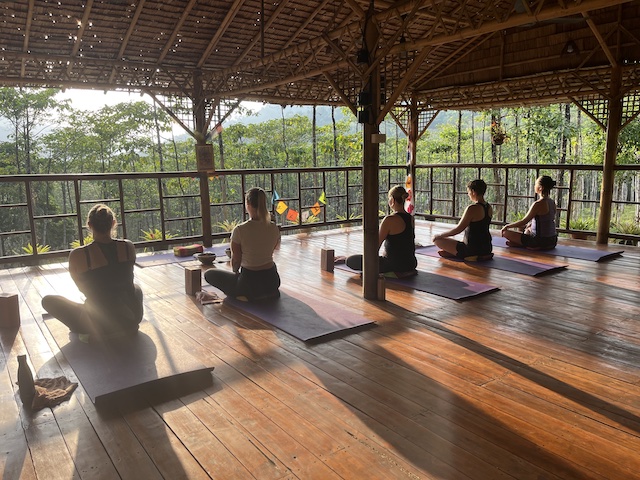 14.15 - 15.30 pm Thai/Buddims Meditation
Why is so hard to begin for meditation and how to begin ? 
Are you curious about buddhism and Thailife ?
What is different of guided meditation in western cultures and Thai/Buddism meditation ? 
This classes have answer for you. Full classes workshop learn Thai buddhist style meditation, Walking and sitting meditation with Mantra to focus a mind theory 30 minutes & practice 45 minutes.  Taught like you go in temple stay.
Book this class on Whatsapp:
16.00 - 17.15 pm Streching Yoga
shooting relax 75 minutes stretching Yoga, move gentle flow allows your body to listen of your breath, awareness of your body 
Book this class on Whatsapp:
18.00 - 19.15 pm Sunset Yoga
Magical hours to experience the sunset on hill top while we practice Hatha Vinyasa followed by a slowing down short tibet singing bowl healing at the end of session
Book this class on Whatsapp:
20.00 - 21.00 pm Tibet Singing bowl + Thai meditation
Relax body and mind with Thai meditation 30 minutes and shooting your self with sound and vibration of Tibet singing bowl 
Book this class on Whatsapp: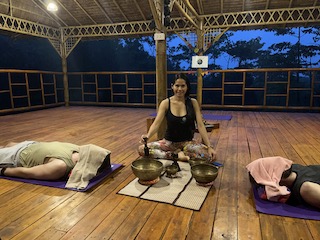 Private TibetSinging bowl sound healing therapy
If you feel unbalance , to much things going on in your head, stress out mind and body , try this private session sound of Tibetan singing bowl transcend you to deep relaxation, reduces stress remove negative energy .
 Private Singing bowl also available 60 minutes 3,000 THB  2,000THB per person
Book this class on Whatsapp: